WHAT IS RESTORATIVE YOGA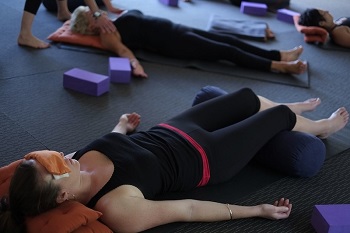 The guiding principle of restorative yoga is that support creates release. The feature of restorative yoga is the use of props – blankets, bolsters, blocks and straps which support the body to release muscular tension.
Restorative Yoga poses are simple yet profound. You relax and allow your body to melt and open as you lay over the props. With the help of gravity and mental focus, you can surrender layers of deeply held tension, muscles release, the mind calms, and the heart softens. When the body is fully supported in a pose, it can relax into the shape of the pose without exerting any physical effort to stay there. We can therefore 'receive' rather than 'do' the pose.
The yoga props can be arranged in many shapes and heights so support feels like it is coming up from below, rather than the body sinking down into the props, so allowing yourself to be supported, with a feeling of being cocooned. Modifications can be made to suit each person's level of flexibility.
In other styles of yoga, we are encouraged to find the edge of our flexibility in a stretch. Stretching to the point of resistance creates tension; in restorative yoga, the aim is muscular release, letting go of the grip of inner tension so we can be more spacious and receptive. As you begin to relax, you are rebalancing the nervous system and optimising energy flow to the organs, lowering heart rate and blood pressure. Each pose is held for several minutes and as you go deeper and longer into the position, you feel even more relaxed, calm and at ease.
The postures of restorative yoga are soothing, relaxing and supporting. Soak in the experience of the posture and enjoy the simplicity of it.
Restorative Yoga will leave you well rested and well nourished.