RAW PAD THAI SALAD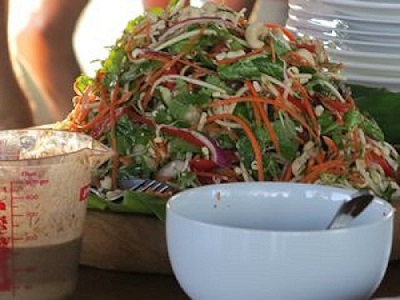 4 Servings

Ingredients:
For Salad:
1 oak leaf lettuce
2 carrots, thinly julienned
1 large Lebanese cucumber, peeled and thinly julienned
1 sweet potato, thinly julienned
2 zucchini, thinly julienned
100g bean sprouts
1 punnet cherry tomatoes, cut in half
2 vine-ripened tomatoes, chopped
1 capsicum, thinly sliced
1 spanish onion, thinly sliced
2 handfuls of chopped herbs (a mix of mint, coriander, basil, Thai basil,)
Sunflower seeds, sesame seeds
Raw cashews
Himalayan pink salt and cracked pepper
For Dressing:
2 tbsp tamarind pulp (or tamarind paste if you can't find)
2 tbsp sesame seed oil
2 tbsp Bragg's Aminos (or tamari)
2 tbsp honey
3 tbsp water
Instructions:
For Salad
Scatter lettuce onto a large platter and add all other salad ingredients.
Add some Himalayan salt and use your hand to massage salad and build flavor.
Add some cracked pepper. Adjust seasoning if necessary
Top with a sprinkling of sunflower seeds, sesame seeds and cashews. 
For Dressing
Place all ingredients into a high-speed blender like a Vitamix and blend until smooth.
You could use this salad on top of pumpkin soup or as a filling for Nori rolls, lettuce cups.
You could also use it for cabbage cups, chop the end off the cabbage and separate leaves, put in a bowl and massage with salt to soften.
Optional:
Serve with a chilli salsa by finely chopping chillies, shallots or spring onion, some coconut oil, salt & pepper and chopped coriander stems.