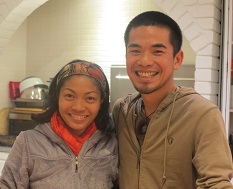 Recently we had the pleasure having a beautiful couple stay at Awaba… Rovielle & Kentaro. They had just spent a couple of months studying Permaculture Design on a property in Queensland and were keen to come for a visit to help out in our veggie garden.  Not only have they transformed our garden but it turns out they are also amazing cooks and this is Kentaro's miso soup recipe he made for us one evening.  It was absolutely delicious.
MISO SOUP RECIPE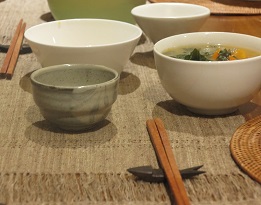 Serves 4
Ingredients:
1 large sweet potato, chopped
1/4 pumpkin, chopped
Miso paste
2 sachets of Dashi (Japanese soup flavouring)
Handful of Wakame * (place in a small bowl with hot water to soften before using)
4 pieces of Kombu *
1 tblsp ginger, finely chopped (optional)
Tofu, finely sliced
4 shallots, finely chopped
Instructions:
Half-fill a large saucepan with water. Tear up the kombu into large pieces and add to the water and bring to the boil. Wait for the kombu to infuse and for the water to turn a light green.
Throw in the pumpkin and sweet potato and add the dashi. Let boil until the veggies are soft, adding the ginger (if using) just before the veggies are fully cooked.
Also add the wakame towards the end of the cooking time (do not cook for too long).
Add the tofu to the pot. Start with half a ladle of miso paste and gently immerse in the water and let dissolve gradually. Taste and if necessary, add more miso… it is important that you don't let the miso boil.
Serve the miso with finely chopped shallots and soy sauce.
Note: Wakame and Kombu are sea vegetables found in health food stores. Sea vegetables help alkalise our bodies and contain more minerals and vitamins than land vegetables. Miso soup is eaten daily in Japan, even for breakfast.
Serving idea: Cook some organic soba noodles by bringing a pot of water to the boil and let boil for about 4 minutes. Drain, rinse under cold water and drain again. Place into another small bowl with some more soaked wakame on top of the noodles.