Coconut Macaroons
Makes 20
Ingredients: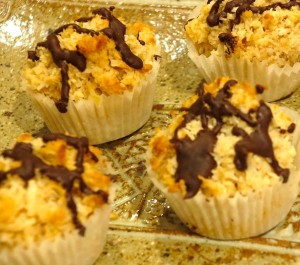 ¼ cup macadamia or almond oil
1 cup maple syrup  
3 cups desiccated coconut  
2 cups shredded coconut
¾ cups spelt flour
4 tbsp arrowroot powder
1 tbsp baking powder
1 tsp vanilla
zest of a lime or lemon
30 gm dark organic chocolate to drizzle
Instructions:
Line a muffin tin with mini squares cut out in baking paper (helps to keep the tall cone-like shape). Turn oven to 180C.
Mix all the line ingredients together in a large mixing bowl along with the lime and lemon zest. Then, add the vanilla to the maple syrup and stir. Add that mix and the oil to the dry bowl of ingredients. Combine thoroughly.