Chocolate Coconut & Almond Cake
Serves 8-10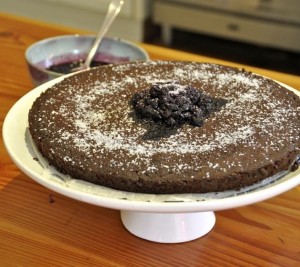 Ingredients:  
150 ml melted (room temperature) coconut oil
50 g good-quality cocoa powder (sifted)
1/2 cup boiling water
2 tsp best vanilla extract
150 g ground almonds
1 pinch of salt
1/2 cup real organic maple syrup
3 large organic free range eggs
2 tbsps. coconut sugar
1/2 desiccated coconut
Instructions:
Preheat oven to 180༠C. Grease a 22 cm spring-form tin with a little coconut oil and line the base with baking paper.
Add sifted cocoa and boiling water into a small bowl and combine well.
In a separate medium-sized bowl, add ground almonds, desiccated coconut, salt and coconut sugar and whisk to combine evenly.
In a large bowl, add eggs, maple syrup, vanilla and melted (and cooled) coconut oil and whisk for a couple of minutes or until mixture thickens up slightly.
Add the cooled liquid cocoa to the egg mix and using a large spoon, gently combine. 
Pour mixture into prepared cake tin and bake for approximately 45 minutes or until the centre is firm to the touch.
Leave to cool completely on a cooling rack. 
Notes:
Serving suggestions: Sift a little extra cocoa and desiccated coconut over the top and serve with a berry coulis (cooked down blueberries with a tablespoon of coconut sugar).