BENEFITS OF YOGA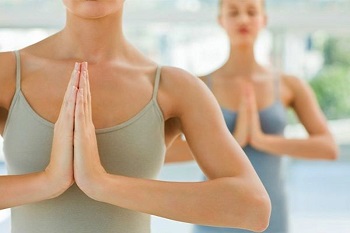 Yoga is a wonderful practice that conditions both your body and mind. Unless your body and mind blend harmoniously, you cannot be in balance. A well-tuned mind is lost on a physically weak body and physical fitness is not enough to overcome a stressed mind.  With today's lifestyle being very demanding and stressful, you need to ensure that you keep yourself physically and mentally fit to overcome the challenges of life.
Although all forms of exercise have their own benefits, yoga is unique. As well as strengthening the body, it also strengthens the mind and spirit and can be a pathway to enlightenment.
Yoga is an excellent wellness program that can be performed by all age groups. There are various types of postures for various medical conditions and age groups and hence yoga has an answer for all. Yoga helps to keep yourself physically, mentally, and spiritually fit and opens up a new world of unique experiences for you. It is a tried and tested science that was developed in India over 5,000 years ago.
The benefits of yoga can be broadly classified into three types. Yoga helps you to look great, feel great, and be great.
Yoga helps you to look great because with regular practice, blood circulation and oxygen flow increases, making you look fresh and vital. You feel great because it tones your body and internal organs thus enhancing your performance and releasing stress. You become great because your state of mind elevates to a superior level of thinking as the yoga practices purify your mind and your actions. You become radiance personified.
Perhaps the most profound benefit of yoga is the effect it has on one's inner-self.  Through the philosophy, postures, breathing exercises and meditations it encourages a deeper awareness of the limitations of your personality and how to transcend your limitations to connect with the very essence of life.
Moving through each posture with focus and mindfulness creates harmony between one's breath, circulatory system, physical body and mind. The effects of a consistent yoga practice help many to cultivate self-acceptance, self-awareness, inner peace and calm.
Highlights of Benefits of Yoga
Yoga brings the body and mind into perfect harmony

Strengthens the nervous system

Calms the mind and relaxes the body

Reduces stress and anxiety

Improves concentration

Aids to relieve constipation and other stomach disorders

Weight management

Improves respiratory capacity

Improves the circulation and cardiovascular systems

Increases strength, flexibility and mobility of the spine and joints

Entire body is toned and looks more youthful

Increases energy level

Strengthens the immune system

Can ease pain associated with many chronic conditions such as arthritis, hypertension, sciatica, multiple sclerosis and chronic neck and back pain

A low-impact physical exercise recommended for people of all ages and physical abilities