The Green Goddess salad dressing is always a favourite on our retreats as an accompaniment to a beautiful salad.
Awaba Love Salad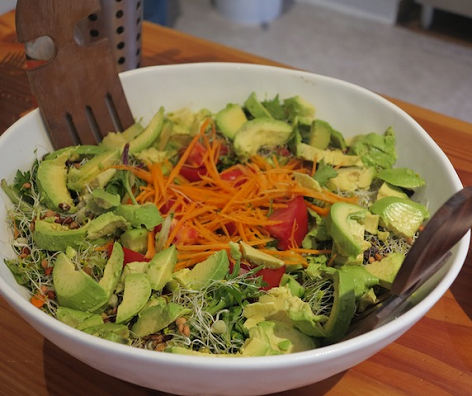 Serves 4
Ingredients:
Mixed salad leaves
Tomatoes, red & yellow
Red capsicum, chopped
Grated beetroot
Zucchini spaghetti spirals or julienned
Carrot spirals or julienned
Fresh corn cob
Avocado, sliced
Mixed sprouts
Instructions:
Marinate the zucchini spaghetti in some of the Green Goddess Salad Dressing. (recipe below)
Add all other ingredients.
Serve with remaining Green Goddess Dressing as well as Cashew Cheese Sauce. (recipe below)
GREEN GODDESS SALAD DRESSING
Make 3 cups
Ingredients:
1/3 cup tahini
¼ cup lemon juice
¼ cup extra virgin olive oil
¼ tsp black pepper
¾ tsp salt
½ tsp sweet smoked paprika
½ bunch of fresh parsley
1 cup basil leaves, firmly packed
1 garlic clove
1 whole spring onion
2/3 cup water
1 tbsp honey
Instructions:
Place all the ingredients in a high-speed blender like a Vitamix and process until smooth and creamy.
CASHEW CHEESE SAUCE
Makes ¾ cups
Ingredients:
160 g cashews, soaked 1-2 hours (or you could use macadamia nuts)
2 tsp lemon juice
½ tsp sea salt
pinch of freshly ground black pepper
Instructions:
Soak the cashews (or macadamias if using) for at least one hour or preferably overnight. Drain and rinse really well.
Place the cashews in a food processor. Add the lemon juice, salt and pepper and pulse for a minute to combine. Add 3 tbsps of water  and continue to process until smooth.